Original Moon Lamp
---
---
THERE IS A LAMP THAT IS THE HERO OF ALL LAMPS

AND THAT HERO IS THE ORIGINAL MOON LAMP
Few of us will ever have the chance to visit outer space, but that doesn't mean we can't bring space to us! And what better way to do that than with these beautiful and enchanting Original Moon Lamps.
CRAFTED TO PERFECTION
Each individual moon lamp has gone through a rigorous 26+ hour 3D printing process using state-of-the-art technology. The design is made according to NASA satellite images to accurately reproduce the moons actual surface and craters.
❌ Beware of cheap knock offs selling fragile designs with non-compliant rechargeable batteries (very dangerous for your home!)
⚠️ Our Moon Lamps are the only ones on the market with a uni-body (single mold) design and are FCC, CE, and RoHS certified so you can rest assured that it's tested, approved, and 100% safe!
TWO COLOR TONES IN ONE LAMP
Each moon lamp can be adjusted to either a warm yellow or a natural white. 
Enjoy the moonlight every night with this stunning moon lamp.
FREE WORLDWIDE SHIPPING IS INCLUDED WITH EVERY PURCHASE.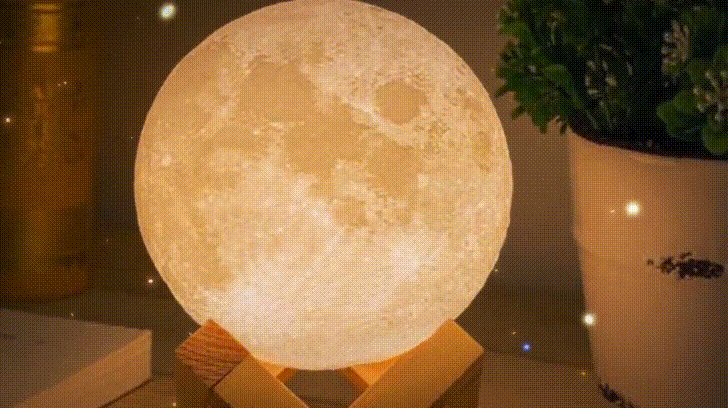 TRANSFORM DULL NIGHTS INTO MAGICAL EXPERIENCES
Add a little bit of magic to every room at night while you're reading your books or simply admiring the beauty of the moon before bed.
Imagine what it feels like holding the moon in your hands. The dead volcanoes, the impact craters, the lava flows... all within your reach!
THE PERFECT GIFT!
The Original Moon Lamp can make the perfect gifts to kids and adults alike. Treat your loved ones with this enchanting, calming and interactive piece of art.
26+ HOUR 3D PRINTING PROCESS USING STATE-OF-THE-ART TECHNOLOGY
FEATURES
RECHARGEABLE - Recharge your moon night light with the provided USB charging cable.
WIRELESS

 

- Now 100% wireless, this moon lamp is guaranteed to provide you with a simplistic, stress-free experience.
DIMMABLE - Whether you are looking for a light that brightens an entire room, or a relaxing nightlight, this moon lamp will be perfect for you.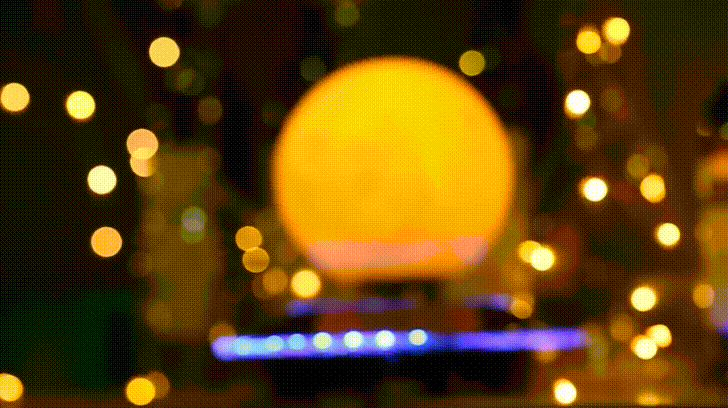 SPECIFICATIONS
Material: 100% eco-friendly PLA from the USA
LED Color: White and Yellow
Battery Capacity: 500mAh built-in rechargeable battery
Charging Time: 2 hours
Working Time: 8 - 12 hours
7 different sizes to choose from
EASY TO USE!
Touch the metal ring at the bottom of the moon lamp to turn on / off the light and change color from white to yellow.
Long press the metal ring to adjust the brightness.
The white light will not shine when power is low.
Insert the DC connector into the metal ring at the bottom of the moon lamp to charge, the red light is always on during the charging.
The red light will automatically turn off when fully charged.
FAQ
Will I need to buy batteries? 
No. This wireless moon lamp does not require any extra batteries. It comes with a 400mAH rechargeable battery already built-in and comes with everything that you need to keep it functioning perfectly.

Is the moon lamp hot when it is turned on? 
No, the moon lamp does not emit any heat. You can safely touch and hold the moon lamp when it is on. 

How do I know when my moon lamp is done charging? 
When you begin charging your moon lamp, the lamp itself will show a light red color to indicate that it is charging. When your moon lamp is no longer glowing red but is still plugged in, it is fully charged. 

Is this lamp safe? 
Yes. This moon lamp is 100% safe and has been RoHS and CE certified to prove it. You can also browse our various reviews from previous customers to see its positive feedback below.