Magic Cone-Shaped Windshield Ice Scraper
---
---
NOTE:When your credit card information has a bad record, the system may invalidate the order, so it is recommended that you pay with PAYPAL
Tired of wasting hours getting ice and snow off your car? The clever tool that does it in just seconds! It is the best and well-known handheld tool for removing frost, ice, and snow from windows on automobiles without damaging your car's windshield and paints.
The safest tool on your windshields. 

Get ice and snow off in seconds. 

Easily packable and can be stored in your car without taking too much space.
One side of the cone ice scraper is extra wide to cover more area for scraping and snow removal from your car, whereas the other side of the cone is meant to be an ice-breaker. The end of it has mini spikes that protrude from it, so if there'a large build-up of ice on your car windows, you can tap the end of it on the ice, and it'll easily break away.
The circular scrape-a-round ice scraper is said to clear ice and snow from the windows of your car twice as fast as traditional scrapes using its large 18-inch scraping surface. Plus, its unique cone shape makes it extra comfortable to grasp and use.
Not only is the scrape-a-round one of the best ice scrapers there are, but it also works like a funnel to easily add washer fluid to your car without spilling all over the place. Just remove the tip of the ice scraper and it instantly turns into a funnel.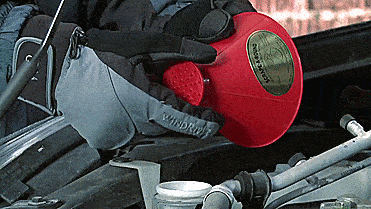 The scrape-a-round can remove even the most frozen frost from the windows of your car with ease, will not scratch the glass on your car while using it.